Grocare®'s Hiatal Hernia Kit – Hernica®, Xembran® and Acidim® helps to treat hiatal hernias without surgery.
No one likes to undergo a surgery. With Grocare, we make sure you never have to.
Over 82.6% users reported a reduction in symptoms within the first 40 days. Try the kit here and see the benefits yourself or scroll down to see the testimonials & reports of people who have used the kit & healed themselves naturally.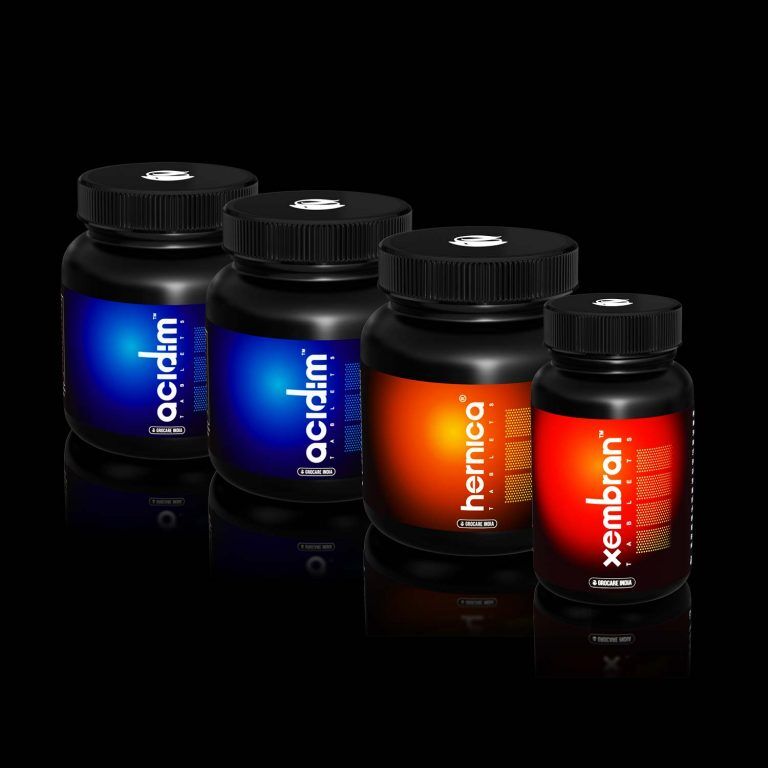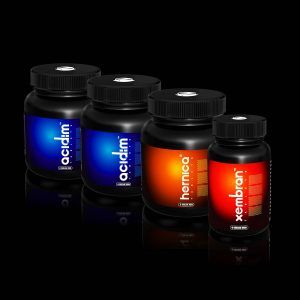 These formulations contain a proprietary blend of more than 12 different potent herbs. They help against a hiatal hernia & restore the stomach's lining back to normal, promote a balanced gut microflora and support healthy digestion. The actions of these herbs are:
Antibacterial
Anti-inflammatory
Antioxidant
Protective against ulcers
Astringent
Anti-diarrheal
Digestion stimulating
Pain relieving
Anti-inflammatory
pH balancing
Good bacteria promoting
Anti-parasite
Gas-relieving
Soothing to an irritated stomach
Acidim®, Xembran® and Hernica® can help drastically reduce hiatal hernia symptoms. Xembran® is a bacteriostat that helps restore healthy gut flora. It kills of Helicobacter pylori and other bad bacteria in the gut that are directly linked to an increased incidence of Hiatal Hernias.
Acidim® helps balance pH, while protecting the stomach lining and intestines. Hernica® helps regulate bowel movements and directly reduces internal inflammation, thereby helping the hiatal hernia heal naturally.
Order Acidim®, Xembran® and Hernica® Online Now. Scroll down to read the amazing experiences & see the reports of people who used Grocare®'s kit.
Our Experts
Comprised of distinguished physicians, M.D., Ph.D., nutritionists & Ayurveda experts, our Medical Advisory Board (MAB) members serve as strategic advisors to Grocare and were chosen for their multidisciplinary expertise, thought-leadership and diverse geographic representation. Their collective experience helps you receive the best in healthcare
What is a Hiatal Hernia?
The food we eat enters our mouth and travels to the stomach via a tube called the esophagus. The diaphragm is an important organ that helps with breathing and lies between the lungs and stomach. The esophagus passes through a hole in the diaphragm called the esophageal hiatus.
A hiatal hernia is a condition where the upper part of the stomach, located just below the diaphragm, protrudes through the esophageal hiatus and rests within the chest. Other hernias can happen in the abdomen, upper thigh, belly button, or in the groin, but the bulging tissue is in your stomach and diaphragm in this specific type of hernia.
A hiatal hernia can be extremely painful due to the stomach pushing on the diaphragm muscle. In order to treat a hiatal hernia, we need to treat the cause of the hernia – the pH imbalance and inflammation of the stomach lining.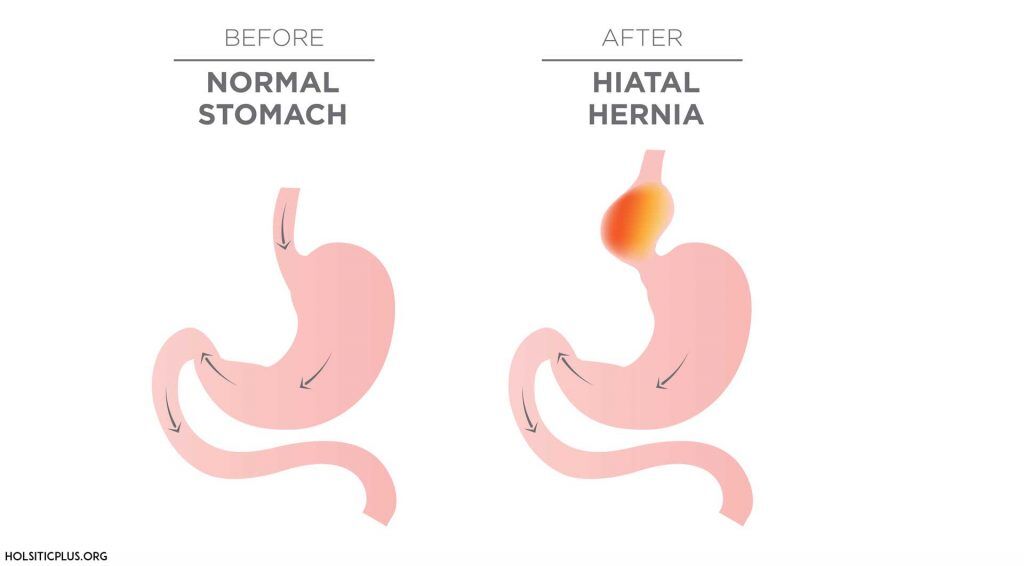 Surgical Procedures
Hiatal hernias are often treated by surgery. The surgeon attempts to pull the stomach back into the abdomen, correcting the hernia. Surgery is usually reserved for patients who develop complications, such as recurrent bleeding, ulcerations, or strictures. However, there is another less invasive way to fix this problem which does not involve recurrence. This involved the use of herbal supplements.
PPIs
If you are diagnosed with a hiatal hernia, via a doctor's visit and subsequent endoscopic exploration, then you may be prescribed pharmaceutical medications.
Many medical practitioners prescribe medications such as omeprazole and esomeprazole for hiatus hernias. These medications are meant to decrease the acid in the stomach for relief of acid reflux symptoms. However, these medications have to be taken daily for years and symptoms can re-start if you discontinue the medication. They do not offer a solution but simply mask the problem. Apart from this, they are known to cause other health problems. The following is a partial list of the most commonly known side effects:
Severe stomach pain, diarrhea that is watery or bloody
Seizure (convulsion)
Kidney problems – urinating more or less than usual, blood in your urine, swelling, rapid weight gain,
Symptoms of low magnesium – dizziness, confusion; fast or uneven heart rate; tremors (shaking) or jerking muscle movements; feeling jittery; muscle cramps, muscle spasms in hands and feet; cough or choking feeling.
Stomach pain, gas
Nausea, vomiting, diarrhea
Lifestyle Habits That Cause a pH Imbalance
To fix the underlying problem, addressing lifestyle choices which can cause a hiatal hernia is the first step. If the inflammation of the intestines and other organs is not addressed, the problem will persist. Correcting the pH in the body is of utmost importance.
Proper pH balance is the first line of defense against almost any disease. Bodies live and die at the cellular level. The billions of cells in our bodies must remain at a neutral pH in order to function and stay alive. This applies to the cells in your stomach, intestines and esophagus. When the human body is in an acidic state, it will try to shield itself from the damaging acid by storing it in fat cells. The body tries to prevent the acid from eating holes in tissues.
Hiatal Hernia Herbal Supplements
Grocare® offers three supplements that address pH balance in the body and begin to decrease inflammation that is caused by hiatal hernias. They help to reduce inflammation in the stomach lining and esophagus.
Xembran®, Hernica®, and Acidim® are very effective for hiatal hernia treatments. Hernica® strengthens the intestines and abdominal wall naturally by enhancing digestion. Acidim® maintains optimum pH levels in the body and regulates acid production. Xembran® kills H. pylori and other pathogenic bacteria in the stomach which are known to be a major cause of hiatal hernias.
As a result, the inflammation reduces, ultimately healing the hiatal hernia. Chances of recurrence are minimized since the medicines eliminate the root cause of the problem. This supplements is equally effective for post-surgical complications. The hernia does not redevelop after supplements are stopped.
These medications correct your body's pH with no side effects and no invasive, expensive surgery. Your natural cure to hiatal hernia awaits.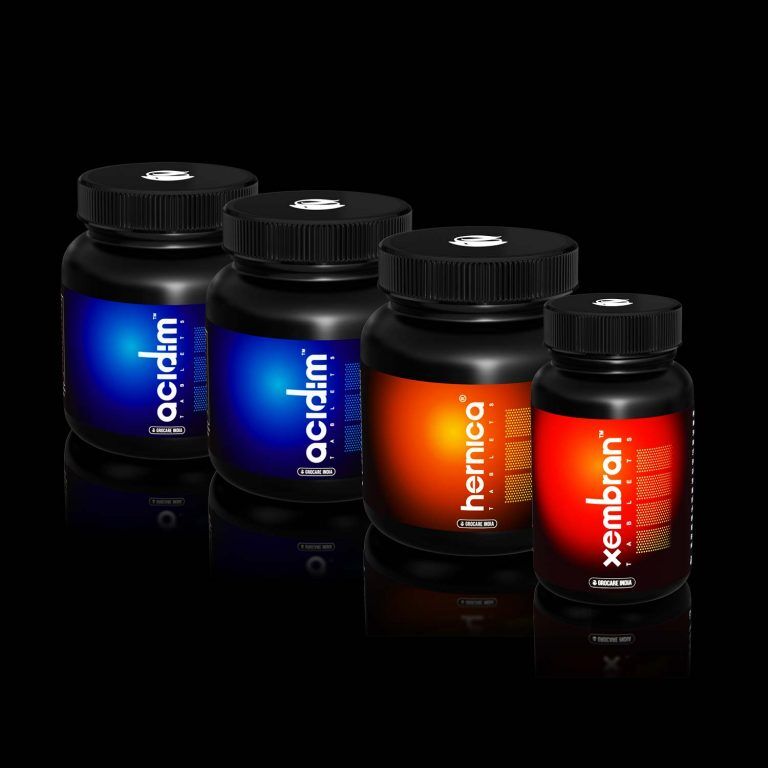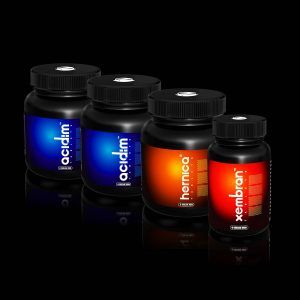 Testimonials
Hear from some of our healed users who have been kind enough to submit their before and after medical reports to us.
"April 2018 I was diagnosed with a large hiatus hernia and had many symptoms of pain in chest and acidity and reflux. Started your treatment after 2 weeks and saw improvements. There were ups and downs but your guidance helped me understand what to do to control it. Keeping on the diet was not easy but really sped things up. I had sort of relapses of acidity twice during the treatment but that was again pre mentioned by you and extra dose of acidim controlled it very well. Now it is august 2018 and my reports are completely normal. I have no symptoms but as requested will continue medicines for 8 months total and then discontinue. Thank you very much.
My before and after reports. Please publish these so that others can see how great your medicines are. But please blur my name from the reports. "
– Anonymous, Trichy
★★★★★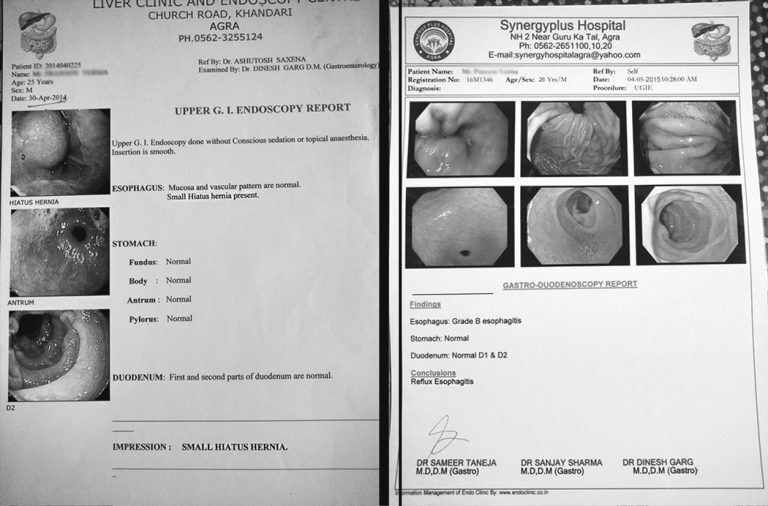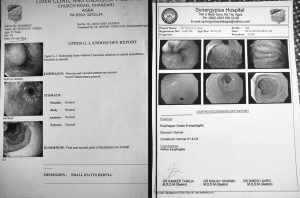 ---
February 2015 :
Im 27 year old and suffering from hiatus hernia for 3 years I was suffered a lot from hyper acidity and heart burn for 3 years. I consulted a doctor and taken his treatment for 6 months but not cured then doctor told me about endoscopy and found hiatus hernia then doctor told me that there is no treatment in alopathy except surgery, I was so worried because it's very early age of mine. One day I was searching a natural treatment of hiatus hernia on google then I found a company known as Grocare India and it's product HERNICA and ACIDIM I thought I should try then I had it and that I found it's working. I had took these medicines for 6 months and that found some magic was going on. Now the problems of mine hyper acidity and heart burn is no more. A special thanks to Grocare India. Im not saying that I cured 100% but it's working. Thank you, Regards
May 2015 :
I got my Endoscopy done today and happy to say that No Hiatus hernia was found, I am so happy and thankful to you for completely curing the same. I am forwarding to you Endoscropy reports before and after treatment, so that others can benefit too.
– Prasoon Verma, Agra
★★★★★
---
I was in a lot of distress from going doctor to doctor and couldn't find any hope in sight. My report a few weeks back shows Grade 5 hiatal hernia, antral gastritis and deodenal folds in report on left side and a few weeks later report shows no hiatal hernia, no folds, and no gastritis. I was so surprised when i started taking the kit Grocare gave me. They took me off my PPIs which was not easy for me but I started feeling that my digestion was getting better within 2-3 weeks and soon when I had no pain I went for another scan and saw my reports completely normal. As suggested I will still continue the medicines until all symptoms go away but the experience itself is so mind boggling and exciting that I had to share these with you. Thank you so much and I hope you will continue to help people like this everywhere.
-Mr. Singh, Mumbai
★★★★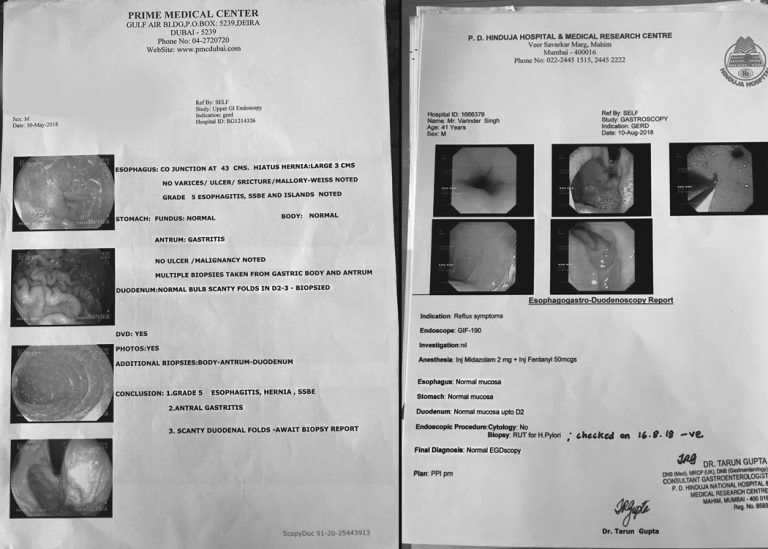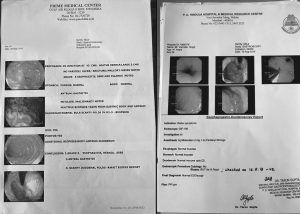 Click to Enlarge
---
Dear Sirs, I recently purchased the kit for Hiatal Hernia. I am very impressed by the results. In about 2 weeks i already begin to feel relief. The stomach bloating is almost gone and the pain has been reduced by about 90%. I have been suffering with stomach issues since January of last year. I have tried several combos of over the counter meds and natural remedies as well but with very little improvement, frankly it was very discouraging, however your medication is by far the one offering real result..Thank You
– Andre Dore, Ontario, Canada
★★★★★
Shipping
Grocare® ships all kits within 24 hours from its premises. It uses DHL express shipping to ship to International locations and all kit are delivered within 4-7 working days. Tracking details are provided for each shipment via email within 24 hours. Daily shipments go out to USA, India, Australia, United Kingdom, Nigeria, Ghana, Kenya, Singapore & UAE.
Disclaimer: The testimonials, statements, and opinions presented on our website are applicable to the individuals depicted. Results may vary and may not be representative of the experience of others. The statements have not been evaluated by the Food and Drug Administration. They are not intended to diagnose, treat, cure, or prevent any disease or condition.